The American Ambulance Association (AAA) will be honoring the best and brightest of EMS professionals during its annual Stars of Life celebration June 12–14 in Washington, DC including two local EMS providers from Metro West Ambulance – Harlan Brock, Paramedic and Melissa Zimmer, EMT. At this year's event, 107 individuals from across the United States, plus Trinidad & Tobago, will be honored as the 2017 Stars. This is one of the highest honors for EMS professionals nationally.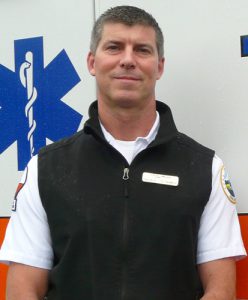 Harlan Brock, a West Linn resident, has worked for Metro West Ambulance in Washington County for over 11 years as a 9-1-1 Paramedic.  Whether he's delivering babies or mentoring new paramedics and EMT's, Harlan's passion and dedication to EMS and Metro West Ambulance are demonstrated through his hard and tireless work.
Leading by example, Harlan demonstrated this when he served as a volunteer member of a regional search and rescue effort to locate a missing girl in the Columbia River Gorge. Harlan reached out to local companies to coordinate supplies and resources needed for the search.
Always ready to provide emergency care where ever or whenever, Harlan delivered a baby born in the front seat of a car this year.  Harlan has cared for countless medical and trauma patients and has responded to many 9-1-1 calls for help.
Melissa Zimmer, a Portland resident, joined Metro West Ambulance 17 years ago. As an EMT and as our company's Logistic Manager and Operations Supervisor for the Vernonia Ambulance Volunteers, Melissa also responds as a provider in our 9-1-1 system.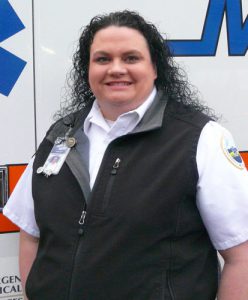 During the last year Melissa has fought a brave battle with cancer and still has been able to maintain her position and to care for those in need of emergency assistance. In her spare time, she volunteers at River City Speedway as one of the emergency responders during their racing events.
Whether it is staffing an ambulance, doing volunteer work, supervising employees at a natural disaster or battling cancer, Melissa truly embodies the definition of a dedicated EMS provider, not only to her employer but to the community she lives in and communities she supports.
The American Ambulance Association Stars of Life program celebrates the contributions of ambulance professionals who have gone above and beyond the call of duty in service to their communities or the EMS profession. Stars of Life recognize the dedication of these heroes while shining light on the critical role EMS plays in our health care infrastructure.
The AAA (American Ambulance Association) represents organizations serving more than 75% of the U.S. population with emergency and non-emergency care and medical transportation services.  Each year it hosts the Stars of Life event in the Nation's Capital to public recognize and celebrate the achievements of its members.  www.the-aaa.org
Metro West Ambulance was founded in 1953 and we are distinguished as the longest running owner-operated ambulance service in the Pacific Northwest.