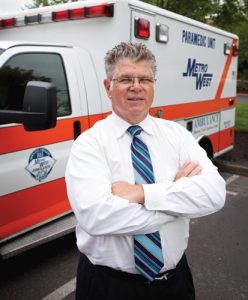 The 2016 Hillsboro Chamber of Commerce Awards and Gala honored outstanding businesses and individuals, youth and nonprofits in the Hillsboro community located in Washington County, Oregon including Metro West Ambulance Service, Inc. President J.D. Fuiten who was awarded the Public Safety Professional Award.
The Public Safety Professional Award recognizes those who have demonstrated loyalty, initiative, and dedication to service, attitude and integrity as well as service to the community above and beyond.
As the President/Owner of the Metro West Ambulance Family of Companies, J.D. literally has spent the majority of his life ensuring that the communities, the state and the region he has spent his life in has the emergency prehospital care and medical transportation that is needed. As a resident of Hillsboro and as a business owner with his roots firmly embedded in Hillsboro, J.D. has long been dedicated to caring for those around him.
J.D. grew up working in the family business that was founded in 1953 by his father, James B. Fuiten, in Forest Grove and worked as an Oregon EMT and in all areas of management prior to succeeding his father as president in 1978.
Involved at all levels, JD serves locally on the Tuality Healthcare Foundation Board of Directors where board members participate in the oversight of programs funded by the Foundation, such as community education and scholarship programs. On the State level, JD is very active in the Oregon Ambulance Association.
Members of the Oregon State Ambulance Association (OSAA) are private and public organizations that provide 9-1-1 emergency ambulance service and transportation throughout much of the state. Members exchange information and review legislation and regulations and actively participate in governmental activities affecting EMS, serving on state and local committees for EMS, trauma and 9-1-1.
J.D. is a member of both Washington State and California State Ambulance Associations as his companies serve the Pacific Northwest. On a national level, J.D. serves as a member of the National Board of Directors for the American Ambulance Association.
The American Ambulance Association represents organizations serving over 75% of the U.S. population with emergency and non-emergency care and medical transportation services.  Founded in 1979, AAA promotes health care policies that ensure excellence in the ambulance services industry and provides research, education, and communications programs to enable its members to effectively address the needs of the communities they serve.
During the American Ambulance Association 2015 Annual Conference in Las Vegas, J.D. Fuiten was honored as the recipient of the "Distinguished Service Award".  This is only the second time that this national association has given out this award.
As President of Metro West Ambulance Service, Inc. (which includes Medix Ambulance, Pacific West Ambulance, Bay Cities Ambulance, Bay Cities Ambulance Roseburg and Metro West Ambulance Eugene Springfield), J.D. encourages all of his companies to be involved in their local communities and on a state and national level including supporting hundreds of charities, foundations and events that provide a wide array of services and assistance to those we care for in our communities.
Metro West Ambulance was founded in 1953 and we are distinguished as the longest running owner-operated ambulance Service in the Pacific Northwest. www.metrowest.us.com                
For further information, please contact Metro West Ambulance Public Information Officer Jan Lee.  503-985-9155 or   Janl@metrowest.fm